About
                                                  "E-Learning – education conveyed via electronic means"
A learning system based on formalized teaching but with the help of electronic resources is known as E-learning. While teaching can be based in or out of the classrooms, the use of computers and the Internet forms the major component of E-learning. ELearning is imparting and facilitating knowledge on media, electronic devices like that on the Internet, CD-ROMs, and DVDs, streaming media etc. E-learning can also be termed as a network enabled transfer of skills and knowledge, and the delivery of education is made to a large number of recipients at the same or different times. The word e-learning is used synonymously with virtual knowledge, online education, computer-based training, web-based knowledge, and networked education. Whatever may be the explanation of e-learning, it is revamping the style traditional academia teaches and the learners grasp. However, with the rapid progress in technology and the advancement in learning systems, it is now embraced by the masses. The introduction of computers was the basis of this revolution and with the passage of time, as we get hooked to smartphones, tablets, etc; these devices now have an importance place in the classrooms for learning. Books are gradually getting replaced by electronic educational materials like optical discs or pen drives. Knowledge can also be shared via the Internet, which is accessible anywhere, anytime.
Value of E-Learning
Online learning has numerous advantages over traditional learning methods. Some of these include the possibility for students to make use of self-paced learning and to choose their own learning environments. Additionally, e-learning is both cost-effective and cost-efficient, as it removes the geographical obstacles often associated with traditional classrooms and education.
All of us have access to the internet and we use it for many different things like researching for some information for school and college projects, downloading music, pictures, wallpapers, and screen-savers, to get updates on the latest happenings all over the world, emails, instant messaging, chats, and many other things. . You can educate yourself in the comfort of your own home and get a degree through the internet now. With the latest technology, even the impossible seems possible now. Web-based learning is commonly referred to as eLearning or online learning. It essentially includes learning online through the courses that are offered on the net. Emails, live lectures, and videoconferencing are all possible through the net. This enables all the participants to give their views on a particular topic and then discuss them further. They also offer static pages like course materials that are printed for the benefit of all the participants. One of the main advantages of accessing pages on the web is that most of the web pages have hyperlinks that will lead you to another page and thus opens up a vast amount of information on the net. Now that affordable e-learning solutions exist for both computers and internet, it only takes a good e-learning tool for education to be facilitated from virtually anywhere. Technology has advanced so much that the geographical gap is bridged with the use of tools that make you feel as if you are inside the classroom. E-learning offers the ability to share material in all kinds of formats such as videos, slideshows, word documents, and PDFs. Conducting webinars (live online classes) and communicating with professors via chat and message forums is also an option available to users.
Online learning offers teachers an efficient way to deliver lessons to students. Online learning has a number of tools such as videos, PDFs, podcasts, and teachers can use all these tools as part of their lesson plans. By extending the lesson plan beyond traditional textbooks to include online resources, teachers are able to become more efficient educators.
Types of e-learning
E-Learning eventuates in many forms and at times is the blend of the following:
• Completely online – no vis-a-vis meetings
• Mixed Learning – A blend of online and direct communication
• Synchronous- the communication between the provider and receiver happen directly as in chat rooms, or video-audio conferencing.
• Asynchronous- The information is passed through forums, emails, wikis etc
• Self-study
• Web-based learning
• CD-ROMs
• Audio and Visuals
Advantages of e-Learning
1. You are able to link the various resources in several varying formats.
2. It is a very efficient way of delivering courses online.
3. Due to its convenience and flexibility, the resources are available from anywhere and at any time.
4. Everyone, who are part time students or are working full time, can take advantage of web-based learning.
5. Web-based learning promotes active and independent learning.
6. As you have access to the net 24×7, you can train yourself anytime and from anywhere also.
7. It is a very convenient and flexible option; above all, you don't have to depend on anyone for anything.
8. Not only can you train yourself on a day to day basis, but also on weekends or whenever you have the free time to. There is no hard and fast rule.
9. Through discussion boards and chats, you are able to interact with everyone online and also clear your doubts if any.
10. The video instructions that are provided for audio and video learning can be rewound and seen and heard again and again if you do not happen to understand the topic first time around.
Email ID : e-content@stjohnscollege.edu.in
Members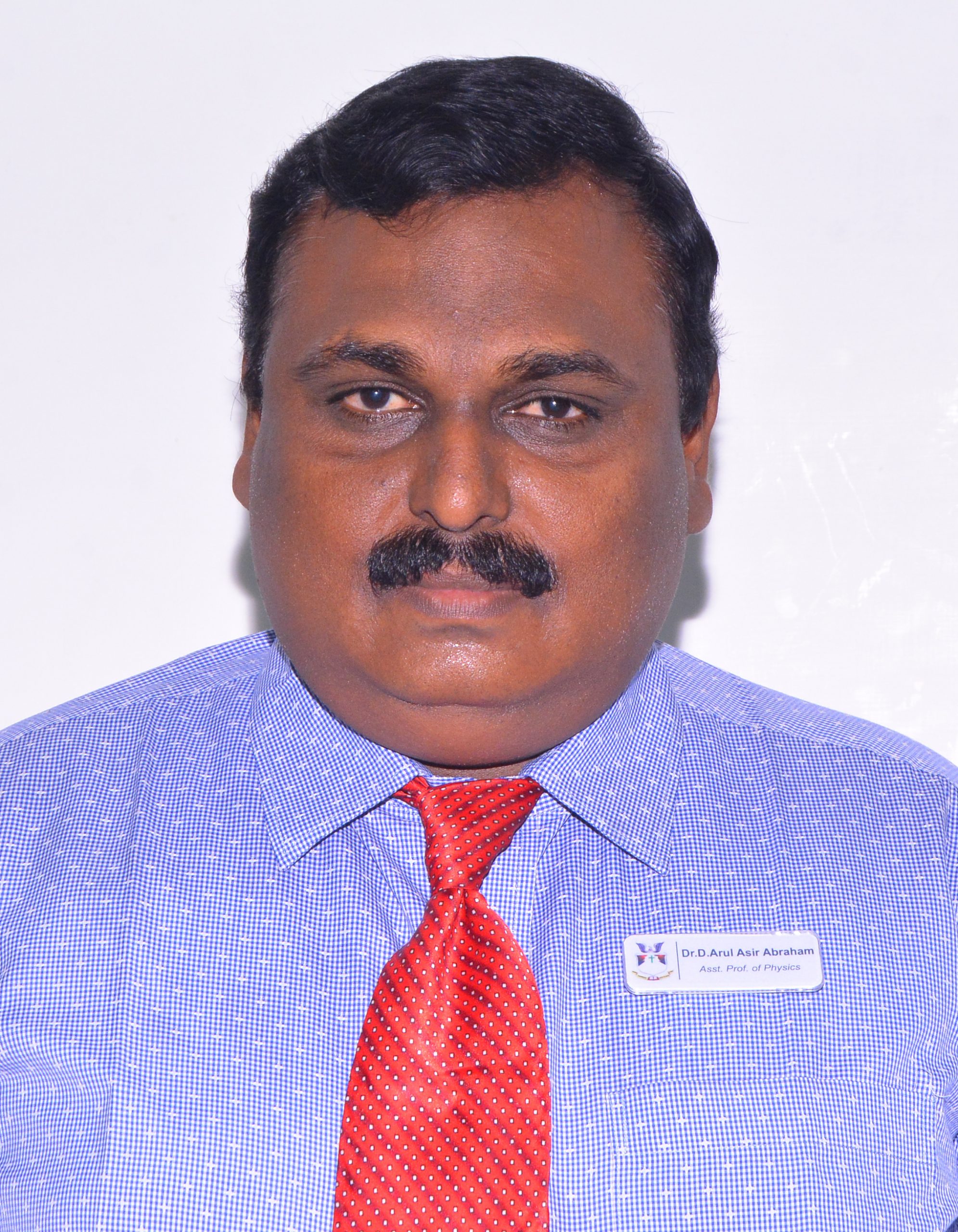 Dr D Arul Asir Abraham (Dept of Physics)
Coordinator, E-Learning
Lecture Videos
E-Resource
Mathematics
Physics
Chemistry
Botany
Zoology
Computer Science
BCA
Activities